The New Generations Meeting!
Spotkanie Nowych Pokoleń, wersja polska: http://lekidukielskiedukla.pl/?p=2466
That was the slogan of family meeting organised by memebers of Więcek family living in Poland and their kins living in the USA (Michalewicz Family) that took place on July 15 to 21, 2018.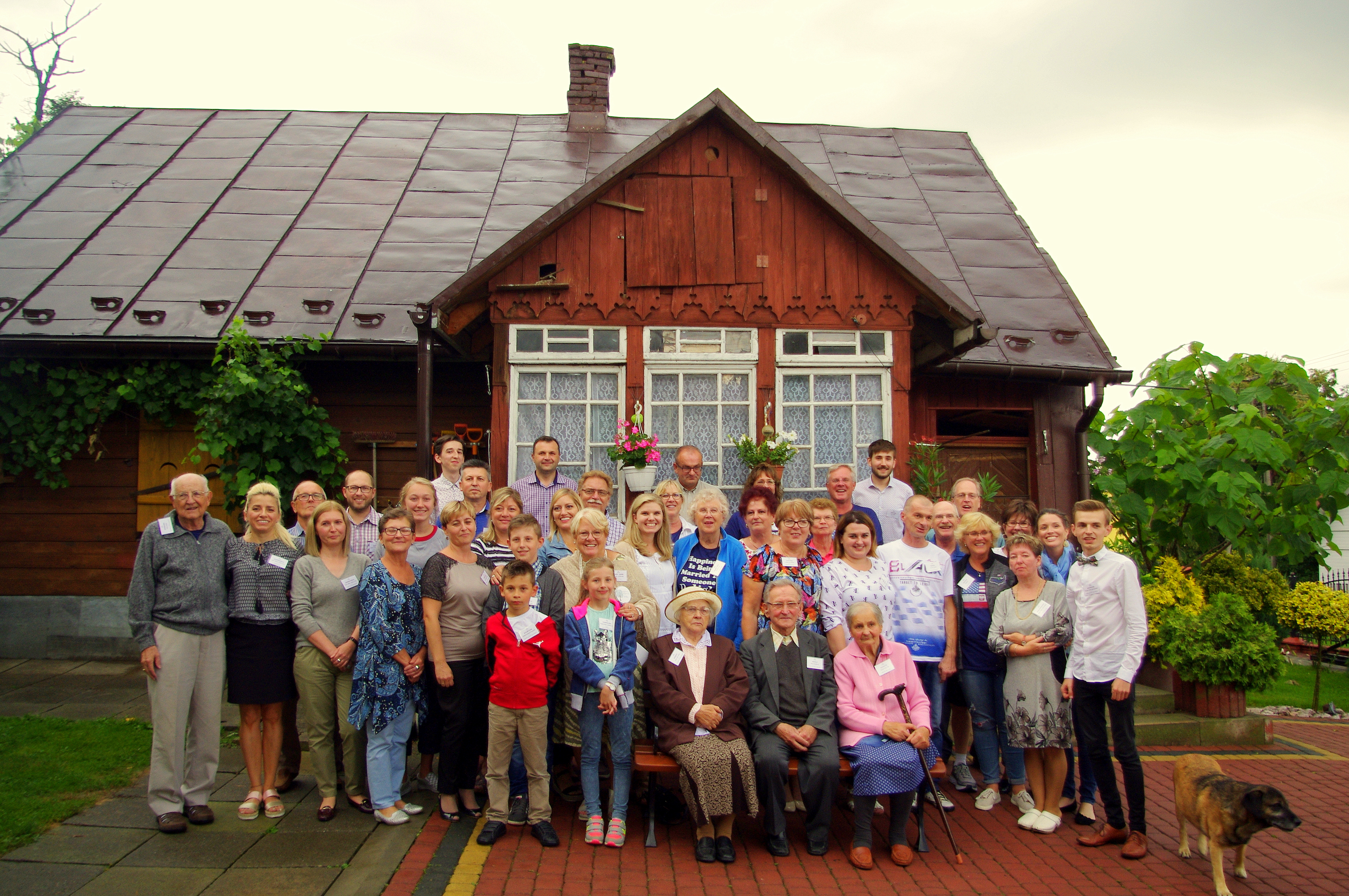 Group photo in the background of the old house. The highest row from left: Michał Więcek, Wojciech Klimek, Stanisław Prorok, Wiktor Gromadzki. Fourth row: Julian Więcek, Marvin Pilgrim, Michele Michalewicz, Karolyn Michalewicz, Alan Michalewicz, John Michalewicz. Third row: Krzysztof Świeboda, Mateusz Świeboda, Sophie Tylinski, Rebecca Pilgrim-Tylinski, Gabriela Kołacz née Więcek, Jane Burger, Steve Burger, Theresa Michalewicz, Erin Michalewicz. Second row: Edward Michalewicz, Agnieszka Więcek z Salamonów, Agnieszka Prorok née Świeboda, Krystyna Świeboda née Więcek, Monika Klimek née Świeboda, Michał Klimek, Mary Jane Pilgrim née Stanley, Stephanie Burger, Mary Lou Michalewicz née Uttermark, Lucyna Stojak née Krężałek, Anna Pelczar née Stojak, Jerzy Pelczar, Nicole Doherty née Michalewicz, Małgorzata Gruszka née Zajdel, Mateusz Więcek. First row: Kajetan Świeboda, Karolina Klimek, Józefa Krężałek née Więcek, Adolf Więcek, Danuta Więcek née Rogala. 
The date of this event had sentimental value for the participants of the meeting.
Exactly 125 years ago, on July 16, 1893, on a little parcel in Łęki that belongs nowadays to Więcek family, Anna, the daughter of Jan Zajdel and Zofia née Leśniak, had been born.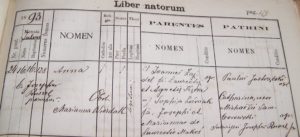 Baptism certificate of Anna Michalewicz née Zajdel.
Anna was one of the seven children of Jan and Zofia, the fourth in turn. She grew up with her siblings: Marcjanna (born 1883, died before 1930), Michał (born 1886, died 1968), Katarzyna (born 1889, died 1897), Maria (born 1897, died in 1988), Antonina (born 1900, died 1906) and Weronika (born and died 1903). As a teenager, Anna showed a great interest in tailoring, that's why her mother decided to spend all her life savings to buy for her a sewing machine.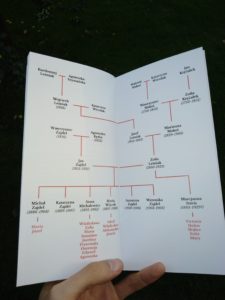 In 1906, her oldest sister, Marcjanna, left the family home and sailed to the USA. She was accompanied by Karolina Solińska (named after her husband Sławnikowski), who had lived in Poland not far away from her.
Four years later, not seeing any life prospects in the Galician village, Anna Zajdel also decided to emigrate. She set out together with Julia (named Nowak after her husband) – a younger sister of Karolina Solińska. In America, Anna met her future husband, Józef Michalewicz. In 1915, they got married.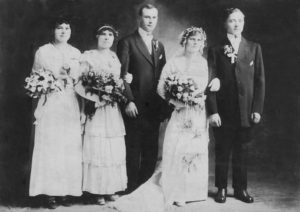 The marriage of Anna Zajdel and Józef Michalewicz in the USA. The witness is Julia Solińska from Łęki Dukielskie.
Anna never met her older sister on the new continent, but she kept in touch with Julia Solińska who was the witness on her marriage. Anna and Józef had nine children (named Władysława, Zofia, Maria, Stanisława, Józefina, Franciszka, Florencja, Edward and Agnieszka). She lived a modest life, although probably at a higher level than it had been in Poland. Together with her husband, she kept a household in Wisconsin (Edgar). She never forgot about her family in Poland and exchanged on a regular basis letters with her mother, and after her death with her brother Michał and her sister Maria who married Paweł Więcek.
After two daughters of Zofia Zajdel née Leśniak left the family house and three of her other children died young, she decided with her husband to adopt Zofia Zborowska, an orphan, born in 1908 in our village. Jan and Katarzyna, the parents of little Zofia, née Wierdak, had died before the age of fourty: the father of cancer in 1910, and the mother one year later of pneumonia. It seems it was the priest of Kobylany Parish Church who begged the faithful during the Sunday Mass to take care of the orphans. Firstly, some neighbors looked after them.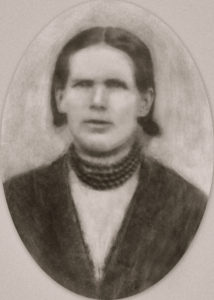 Zofia Zajdel née Leśniak, mother of Anna Michalewicz née Zajdel.
After that, Zofia Zajdel decided to take one of the orphan in. Little Zosia gave some help and consolation to the older spouses. She helped them in household and agricultar work. Unfortunately, since her early childhood, Zosia had a big postural defect. It seems it was caused by the fact that before the orphans left the house, the neighbors who were looking after them had tied them with clothes for the whole days in hope to straighten their spines. After several years, doctor Jan Strycharski from Dukla declared that it was such a strong interference in the child's posture that it caused irreversible changes in her body. In his opinion, the girl could even die during her puberty if the enlarging organs hadn't enough place in the deformed chest.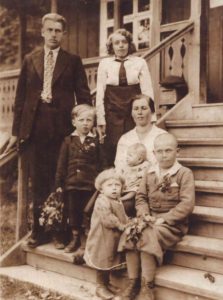 1935, in front of the hermitage of St. John in Dukla. From left: Bronisław Skrzęta – the last of the stable boys employed by Więcek family, Zofia Zborowska.
Below: Adolf Więcek, Maria Więcek née Zajdel with her half-year daughter Józefa Krężałek,
The lowest row : Aleksander Więcek (in dress) and Józef Zajdel- son of Michał Zajdel.
After the death of Zofia Zajdel in 1923 and her husband Jan in 1931, their old house was dismantled. Near this house, in 1927, their daughter Maria and her husband Paweł Więcek built a new one. Michał Zajdel, Maria's brother was the head of the construction and the main constructor. Little Zosia who had been accepted by her half-sister Maria also lived in this house. Maria and Paweł Więcek had four children : Adolf, Władysław, Aleksander and Józefa. Władysław, having lived nine months, died in 1932. Four years later, Zosia also died of a a heart attack. She had always had a very good relationship with all Maria's children. Even nowadays Maria's sons had very positive memories related to her .
During World War II, in 1941, Paweł Więcek was arrested and sent to Siberia from the oil mine in Borysław. He died from exhaustion and cold in the winter of 1941/42. These were very difficult years for Więcek family. Anna Michalewicz always gave spiritual and material help to her family in Poland. During the war, already living with her husband, she bought a Polish newspaper every day in which she looked for informations about the war. Whenever sending mails was possible, she exchanged letters with her sister Maria and her brother Michał.
In 1987, when Maria Więcek was already an elderly lady, Stanisław Michalewicz, son of Anna, came for two weeks to Łęki Dukielskie with his wife Rose Anne to meet his aunts, cousins and all of the family. It was a great event that stayed in memory of family members for a long time.
Stanisław was the only child of Anna and Józef who was able to speak Polish fluently. He met all his relatives, and asked the priest Władysław Nowak to celebrate a mass for his deceased parents.
After several years of being in touch with the family in Poland, Stanisław and Maria sent fewer and fewer letters. Finally, they went to a nursing home where they spent the last years of their lives. The kins from Poland learned about their death six months later via the Internet.
On the occasion of the great jubilee of the village, in 2016, Aleksander Więcek, saddened by the lack of contact with his family in the USA and aroused by the possibility of discovery of family history, reopened letters dating from 50 years ago that he had exchanged with his cousin Edward – younger son of Anna Michalewicz. He ordered his grandchildren to send a message to the address written on the envelope. The grandchildren decided to do it in a more modern way sending a dozen of messages to Edward Michalewicz's family via a social network. In response, Edward's eldest daughter, Michele agreed to come to Poand to meet her family. Since that, from November 2016, the two families have been in touch again.
A year ago, a decision was made to bring over a dozen of living relatives of Anna Michalewicz to the village in which she had lived. The date was set on July 15-18 2018.
It was a great joy for everyone when the preparations began. Many people offered their help and confirmed to take part in the meeting.
The joyful time of the preparation was interrupted by the shocking diagnosis made in November last year to Aleksander Więcek – a malicious gastric cancer. What's worse, the advanced stage of the cancer as well as the advanced age of the patient didn't allow any surgery therapy. Nevertheless, an incredible will to fight, a positive attitude of the patient and assurances about prayers of many relatives (including those from the USA) gave hope to everybody.
In June and in July, the health of the head of Więcek family dramatically deteriorated and he had to be taken to hospital. Until the last day before the Meeting, it was not clear whether Aleksander would be present or not. Fortunetely, on July 13, Aleksander Więcek was able to return to his home to welcome long-awaited guests.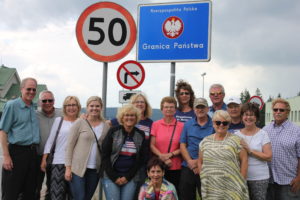 At the state border.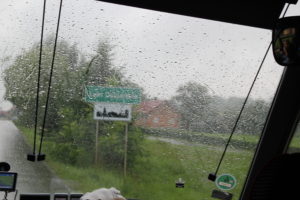 Coming to the village.
Waiting for guests, welcoming and garden party
On Sunday morning, July 15, last preparations for the great visit began. All the women from the family made every effort to welcome guests with traditional Polish dishes.
Agnieszka Więcek – daughter-in-law of Aleksander was chef in the kitchen. Below in the picture with Edward Michalewicz.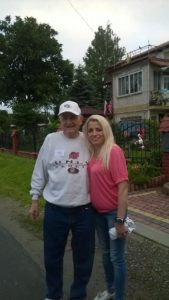 For the party, a tent was spread in the garden with places for 50 guests. The Americans could visit a little exhibition of objects that belonged to Zajdel family like a piece of carpentry workshop owned by Michał Zajdel, the remains of the Zajdel's house from the 19th century, the cross that belonged to Anna's mother, cutlery and other everyday items. Besides, a forty-page information folder was created for this occasion to present to the guests biographical notes of their ancestors.
At 6 p.m. 21 kins of the Mihalewicz family from 7 differents states of the USA got off the bus in Zapłocie (Łęki Dukielskie). Danuta Więcek, on behalf of her ill husband, welcomed 82-year-old Edward Michalewicz, his wife Mary Lou and all guests with bread and salt (traditional greeting ceremony.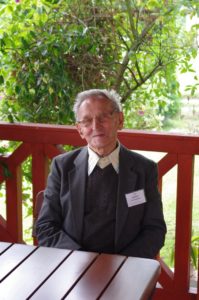 Adolf Więcek, aged 89, the oldest participant of the meeting.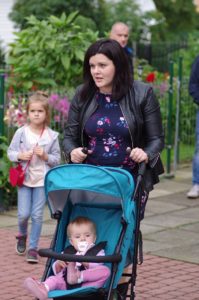 Alicja Świdrak and her mother Jadwiga née Stojak . Alicja was the youngest participant of the meeting (one-year-old). At the previous meeting 30 years ago Jadwiga had been 1.5 months old.
The welcome was also given by 84-year-old Józefa Krężałek and her 89-year-old brother Adolf Więcek – children of Maria Więcek. They both grew up in the same place where Anna Michalewicz had lived before. To make contact easier, the organizers prepared name badges for the participants. Each member of the American family had a family tree in which he looked for every person from Poland he was meeting. For the Polish participants some booklets with family trees were handed out.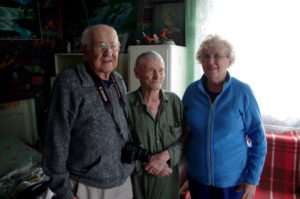 Aleksander Więcek (in the middle) with his American cousin Edward and his wife Mary Lou Michalewicz.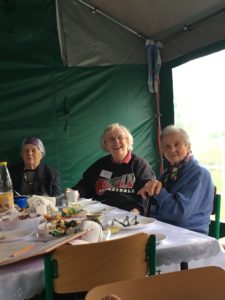 Józefa Kreżałek née Więcek, Mary Lou Michalewicz and Danuta Więcek – Aleksander's wife.
Edward Michalewicz, entering the room of his cousin Aleksander, did not hide his emotions
For two old men, it was a very emotional encounter because they had heard a lot about themselves but they had never seen each other and they both lost hope that they would ever meet.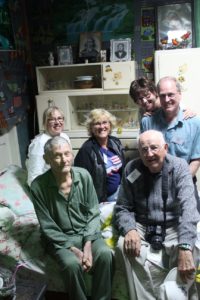 From left, second row: Michele Michalewicz, Nicole Doherty née Michalewicz, Theresa "Terri" Michalewicz, John Michalewicz. First row: Aleksander Więcek and Edward Michalewicz.
From the beginning, Aleksander's cousin explained that he knew only single words in our language, because after he had gone to college, he had lost the opportunity to listen to his parents who spoko Polish at home.
The garden party was a fantastic occasion for starting conversations, walking, taking group photos, tasting some Polish dishes and watching the surroundings of Maria Więcek's home.
Between those who came from the USA to the meeting there were :
⦁ Edward Michalewicz – son of Anna née Zajdel, accompanied by his wife Mary Lou, their two daughters and their son with his wife;
⦁ Son of Władysława (Lottie) Burger née Michalewicz (1916-1977) with his wife and their daughter.
⦁ Daughter of Zofia Stanley née Michalewicz (1918-2004) with her husband, their daughters and their granddaughter.
⦁ Son of Stanisław Michalewicz (1923-2015) with his wife and their daughter.
⦁ Two couples who are family friends.
Beetween Polish participants they were :
⦁ Danuta and Aleksander Więcek (the hosts) – together with their children (Gabriela Kołacz and Julian). Julian came with his wife and their sons.
⦁ Józefa Krężałek née Więcek with her children Jan and Lucyna. Jan came with his daughter and Lucyna with two daughters accompanied by their spouses and their children.
⦁ Adolf Więcek with his daughter Krystyna accompanied by her two daughters, her son and members of their families.
⦁ Małgorzata Gruszka née Zajdel, daughter of Józef Zajdel, granddaughter of Michał Zajdel.
⦁ Wiktor and Konrad – family friends
In total, 52 people attended the meeting.
At the end of the first day of the meeting, the participants took two group photos: the first one was taken on the background of Maria Więcek's house, and the second one at the stairs of the house. The second photograph had both emotional and sentimental value for two reasons. Firstly, ill Aleksander was present in the photograph. Secondly, the place where the photo was taken was exactly the same as the one taken 30 years ago.
The first photo was taken in 1987 in Łęki Dukielskie during Stanley Michalewicz's visit in Poland. On the left, the fourth row: Julian Więcek. The third row: Maria Więcek née Zajdel, Stanley Michalewicz, Adolf Więcek. The second row: Danuta Więcek née Rogala, Aleksander Więcek, Małgorzata Gruszka née Zajdel, Zofia Zajdel née Krężałek, Józef Zajdel. The first row: Paweł Gruszka and Jan Krężałek
The second photo was taken 31 years later in the same place. This time it presents next generations of the family.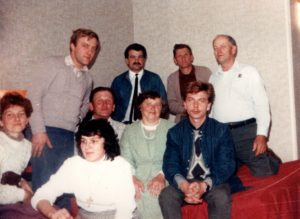 The photo was taken in Cracow in 1987.
From left, third row: Stanisław Grzegorz Stojak, Aleksander Więcek, Stanley Michalewicz.
Second row: Jan Krężałek, Adolf Więcek, Józefa Krężałek née Więcek, Stanisław Więcek,
First row: Krystyna Świeboda née Więcek, Zofia Krężałek née Wojnar.
On the second day of the Meeting the visitors from America went to visit the more important nearest town (Krosno). After heaving breakfast in a hotel, they went to the Glass Heritage Center to learn the secrets of glass making. While visiting, they had the opportunity to try to blow out a glass bubble through the glassworks. (In the gallery below of Polish version of this article on page http://lekidukielskiedukla.pl/?p=2466) you can see all photos from that day as well as those from the following days).
After workshop, the guests visited the Old Town and took a photo on the background of the Bell Tower of the Parish Church which is of special importance for the family because Jan Zajdel had been baptised there in 1851.
After having lunch, members of Michalewicz family went to a chocolate factory in Korczyna near Krosno. The most important visit of that day was made on local cemeteries (in Kobylany and in Łeki Dukielskie) to commemorate an important anniversary. Indded, the occasion was special: 125 years ago from that day, Anna Michalewicz had been born in Łęki Dukielskie.
A visit made on local cemeteries was a good way for members of Michalewicz family to express memory and pay tribute to the ancestors. In Łęki Dukielskie cemetery, the guests visited the graves of Maria Więccek née Zajdel, Helena Więcek née Gac – the first wife of Adolf Więcek, and Władysław Kręzałek – husband of Józefa Krężałek née Więcek who died one year ago.
In Kobylany, the Americans visited the grave of Jan Zajdel and her wife Zofia. Certainly it was an exceptional moment for Edward Michalewicz to see the grave of his grandparents he never knew.
The guests visited next the grave of Michał Zajdel and her wife Stanisława née Sambrowska as well as this one of Władysław Więcek surnamed ,,Dziunio'', brother of Adolf, Aleksander and Józefa.
Finally, they visited the grave of Zofia Zborowska, the adopted daughter of Zofia and Jan buried in the southern-east sector of the cemetery.
At the cemetery gate, a moment of silence was given in memory of three daughters of Jan and Zofia Zajdel who died at a young age as well as in memory of deceased ancestors of Zofia Zajdel who are buried in an unknown place in Kobylany cemetery.
During their visit in Kobylany village, the kins of Anna Michalewicz had the opportunity to visit the local church dedicated to the Blessed Virgin Mary. Although, they couldn't enter inside, they had the possibiliy to see from outside the church where Jan and Zofia Zajdel had got married. Their daughter Anna had recived there her Baptism and First Communion.
Ater visiting two cemeteries and church, the visitors came to the Józefa Kręzałek's house. Jozefa (Anna Michalewicz's niece), together with her daughter Lucyna and her grand daughter Anna welcomed the American guests in English. An exhibition made of letters and photos that Józefa had received throuhout the years was shown to the guests.
During the encounter, members of Michalewicz family had a lot of questions about the life of their relatives in Poland. Some of them showed an interest in buying curtains that Lucyna, daughter of Józefa had designed (she's a seamstress).
Later, two families went to Mr and Mrs Więcek's house nearby to eat supper. Everyone was surprised with the return of strength of Adolf Więcek. Indeed, he felt good enough to take part in the garden party. He brought along a family cronicle he had had for 40 years and asked everyone to sign into it.
Our American friends were curious about many things that were obvious to us. They have always been fascinated by the charm of our cemeteries. Although, some things seemed strange tp them, for example they wondered why we put candles and artificial flowers on our relatives' graves. They had the possibility to try new things for example for the first time in their life they ate gooseberries which grew in the garden. They were surprised by the number of apple trees in Poland. They watched patches, hans sitting in nests and some domestic animals. They were surprised that almost nobody breeds cows, and our farms are small, used only for the needs of our own family.
The visit of our American family was unforgettable – a historical moment that will stay for long in our memory. Initially strangers from two families could soon feel that they were connected by family ties. Everyone showed a lot of affection and love towards their relatives. Especially Danuta and Aleksander whose presence enjoyed everyone got a lot of compliments.
It was very difficult to say goodbye and it wasn't without tears. On Tuesday morning from the Nafta Hotel in Krosno, the family went to Cracow. Despite bad weather, the visitors from inside the bus could see Polish landscape and architecture. During the trip to Cracow, the visitors could learn about the ways of extraction of petrol oil, the life of John Paul II and his visit in Krosno in 1997 and some local food products.
The first day of visiting had to be considerably shortened because of the heavy rain that day. The guests visited some emblematic monuments of Cracow like the Main Square, the Cloth Hall, St Mary's Church, the Florian Gate and the Franciscan church where our American relatives could learn about St Maximilian Kolbe's life. We showed some painting and stained glass to our guests as an example of Lesser Poland's art. The visitors who didn't care about bad weather decided to see the Wawel complex – old residence of Polish kings. On the Wawel hill, the visitors could see cloisters of the Castle and the Cracow Archcathedral. At the end of the tour, the participants listened to the legend of the Wawel Dragon.
On the last day of the visit in Poland, the family went to the Auschwitz-Birkenau Museum in Oświęcim where everyone could see what kind of drama the Poles were going through over 70 years ago. Passing through the places of death caused tears and emotions in many people. After returning, most of the group went for a short rest.
An the end of the day, we had the farewell dinner in the courtyard of one of the Cracow's restaurants. It was a great family time filled with conversations, reciprocal invitations, promises of beeing in touch and not to forget the family history.
The participants received a commemorative photo, a list with each others contacts and jars of honey from Anna Pelczar's family.
The meeting of the New Generations will be remembered for a long time by everyone. The photos and signatures into family chronicle will serve to preserve this memory.
Aleksander Więcek in agreement with his siblings Józefa and Adolf decided in memory of the family meeting to fund a new tombstone for their parents. That seems to be a very good idea especially because Paweł Więcek having lost his life over 75 years ago haven't had any grave or place to commemorate his memory. So, from Friday, July 27 this year, a new plaque on the grave of Maria Więcek commemorates her as well as her husband who had died on Siberia.
***
All those who have contributed to the organization of the Meeting are to be honored. First of all, I would like to thank the descendants of Anna Michalewicz especially her son Edward Michalewicz for having come to Poland to their mother's and grandmother's home. Although more than 100 years have passed since Anna emigrated, the members of the family have never forgotten about their roots. I would like to thank sincerely Michele Michalewicz who spent a lot of time setting up the agenda of the meeting.
I would like to thank my grandfather Aleksander Więcek who had initiated the resumption of contact beetween two families and hosted the meeting. Together with her wife Danuta, he had spend a lot of time telling us about our ancestors.
I thank my mother Agnieszka Więcek who decided to spend her leave on setting the menu and preparing food for the guests. I would like to thank also all the women from the village who helped her to prepare traditional dishes like: Lucyna Stojak, Anna Pelczar, Małgorzata Gruszka, Gabriela Kołacz and Danuta Więcek.
Thanks also have to be given to my dad Julian and brother Michał for having set up a garden tent, having brought tables, chairs and many more things.
I am grateful to my friend Wiktor Gromadzki who has helped me since 2016 to carry on correspondence with the Michalewicz family and served as a translator during the Meeting. Wiktor was also responsable for the the graphic design of the meeting, he had designed for exemple a logo that was placed on various gadgets that participants received. He also designed a forty-page information folder. I realize how much efforts he put into it.
I thank very much my friend Joanna Krzysiak who for almost two years, has helped me to translate letters to members of our American family as well as to American institutions. I have tried with her help to find the decendants of Marcjanna Davis – sister of Anna Michalewicz. I also thank her for having translate the information folder into English.
Thanks have to be also given to my friend Konrad Rysz who served as a photographer during the Meeting. I also express my gratitude to Paweł Kołacz whose genealogical collections have compleated my family tree. I also thank him for his keen interest in current affairs.
Thank you to everyone who supported me and my family in preparation of the Meeting. I'm especially grateful to my cousin Agnieszka Prorok whose kind words have supported me.
Finally, I would like to thank to the medical staff of the Krosno hospital and health center in our village for having made every effort to fulfill my grandfather's dream of meeting his cousin. At least, on behalf of Aleksander Więck, I thank everyone for praying for the improvement of his health.
Mateusz Jakub Więcek
More photos : http://lekidukielskiedukla.pl/?p=2466
The most of the photos presented here were taken by Konrad Rysz. Some of them were taken by Michele Michalewicz, Nicole Doherty, Stephanie Burger and Mateusz Jakub Więcek. The author of the picture from 1987 had been Rose Anna Michalewicz. MJW
***
From the Editor: We'd like to thank Basia Bałon for translating this report out of love for Łęki Dukielskie. We'd also like to thank Ania Biedrzynska née Krężałek who out of love for her father's home village supported us with her linguistic expertise.